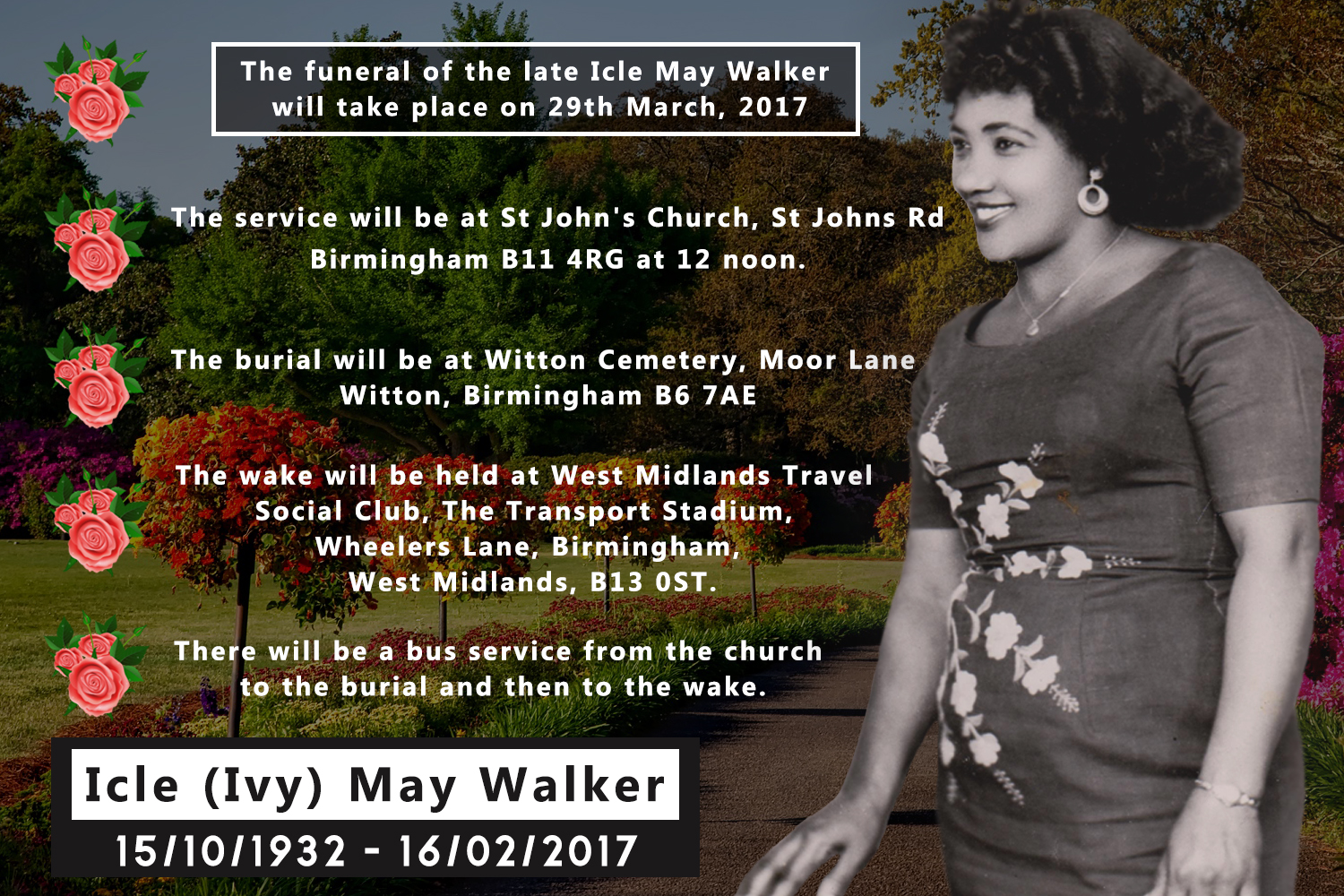 Weep Not For Me
(By an Unknown Author)
Weep not for me though I have gone
Into that gentle night
Grieve if you will, but not for long
Upon my soul's sweet fight
I am at peace, my soul's at rest
There is no need for tears
For with your love I was so blessed
For all those many years
There is no pain, I suffer not
The fear is now all gone
Put now these things out of your thoughts
In your memory I live on
Remember not my fight for breath
Remember not the strife
Please do not dwell upon my death
But celebrate my life
Coat Of Many Colors – Dolly Parton
Commodores – Three Times A Lady
Eulogy
Maya Angelou once said:
                                            " My mission in life is not merely to survive, but to thrive; and to do so with passion, some compassion, some humour"
Icle, Ivy, mom encapsulated all three.  Passions, Compassion, Humour by the truck load.
Since she was barely a teenager, she had a passion to provide for her family in the best way possible
Whether it was giving a large doll to her young brother Valentine, a doll so large that he thought it was a person, or, being the top agent in the country for two different catalogues for years, providing the income to furnish the house.  This was an amazing achievement considering the competition and the number of agents involved in Littlewoods and Great Universal, at the time.
The skill sets needed to be number one – admin, marketing, sales, customer relations etc, clearly showed that if the opportunity had been presented Mom would have been a successful CEO of a major multinational company.
Moms' compassion was immense, If you needed help you could not wish for a better ally. 
Speaking to her friends recently they have told me stories of Mom helping out people in various ways. From persuading a friend that her daughter was suffering from post natal depression when such diagnosis was still unfashionable and not recognised, to protecting a fellow worker from being bullied.
Mom's mantra was an old Jamaican saying. "…Do good it will follow you, do bad it will follow you…".
And of course there was her humour. Her sense of fun and all round gregarious attitude which would light up a room.
Moms welcoming nature meant that visiting Mom meant you went home well fed and watered. As you can tell by her children, very rarely did we go hungry.
To make Mom smile all she needed was to hear children laughing and enjoying life. Friends of Mom told me that going to Ivy's house meant that they could make as much noise as they wanted.
Another bit of laughter I remember was when we were watching the news and a article came on about the 'Black Country'. Mom got agitated about the racist news, until I explained to her that they meant Wolverhampton, Walsall and surrounding areas, which had a large heavy industry that created a lot of black smoke hence the phrase 'Black Country'. We could not stop laughing for hours after.
 In the end to have known Mom was to know a force of nature. Again, Maya Angelou sums our mom, grandmother, great grandmother, sister and friend best:
                                          "I've learned that people will forget what you said, people will forget what you did, but people will never forget how you made them feel".